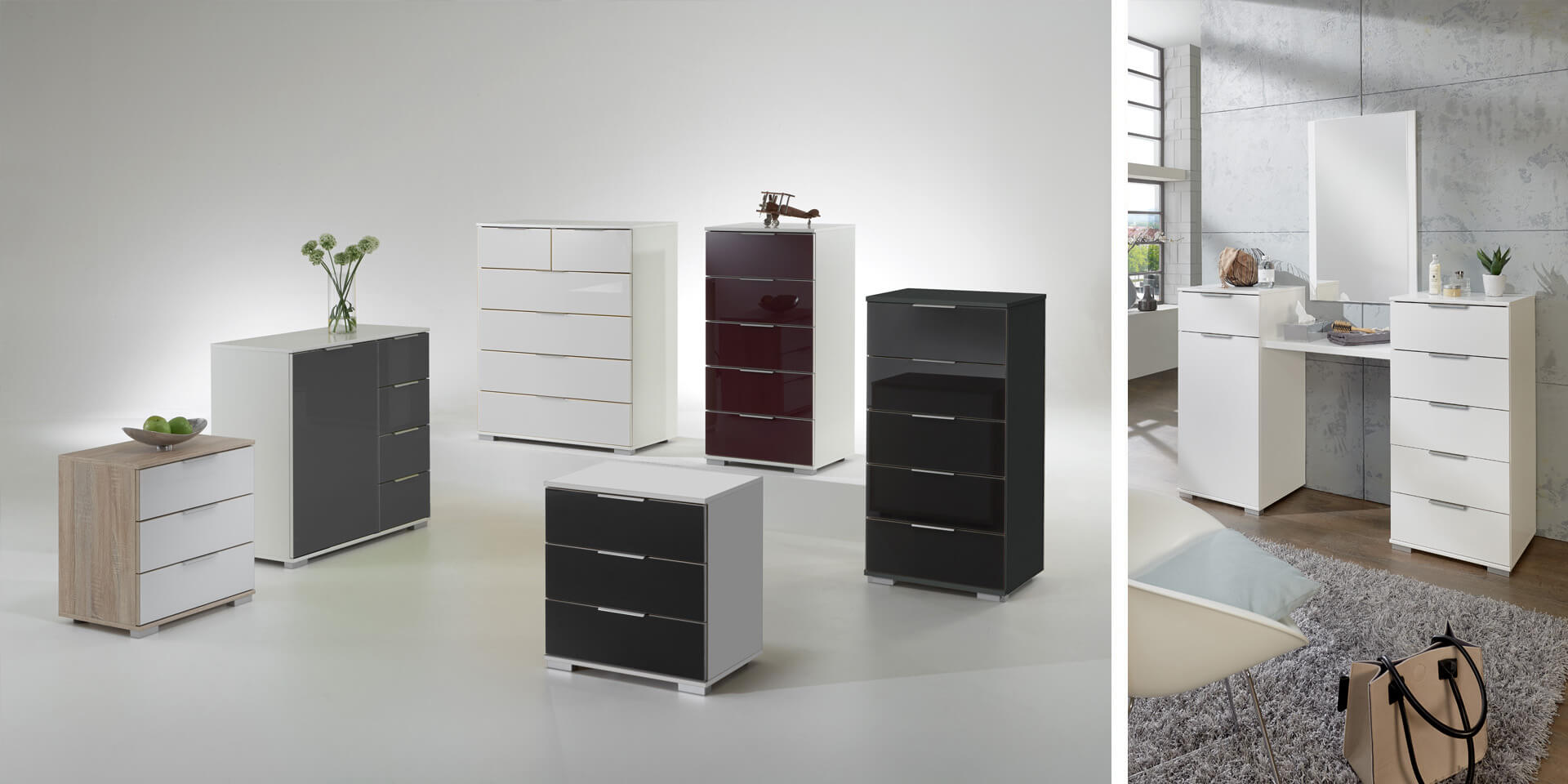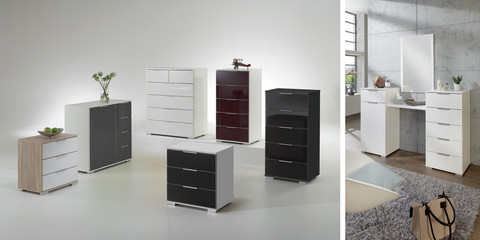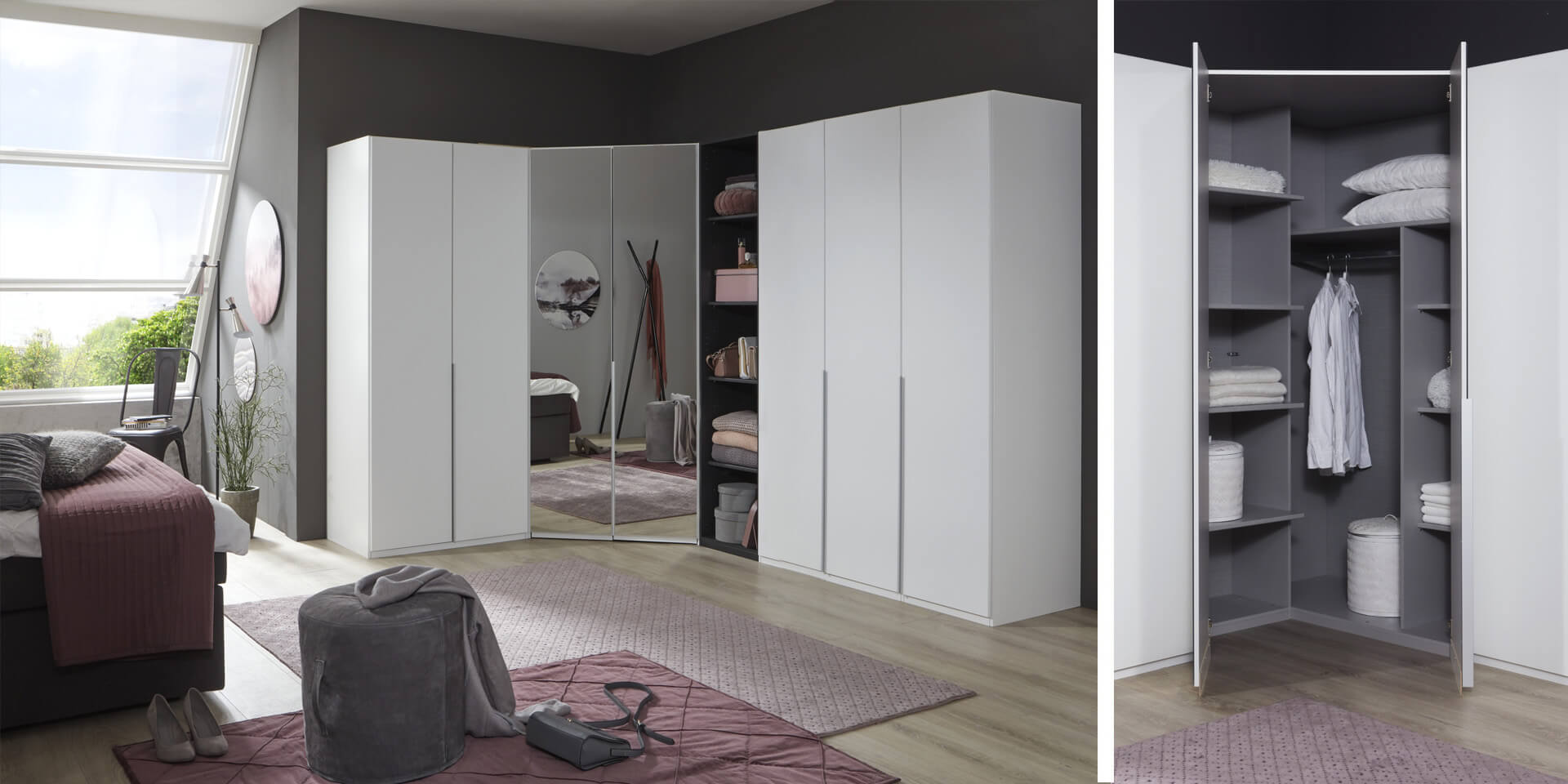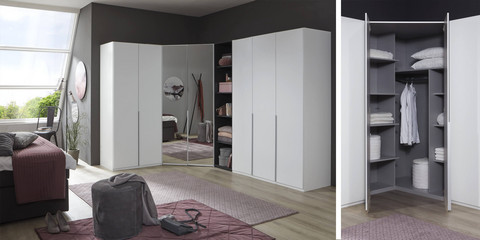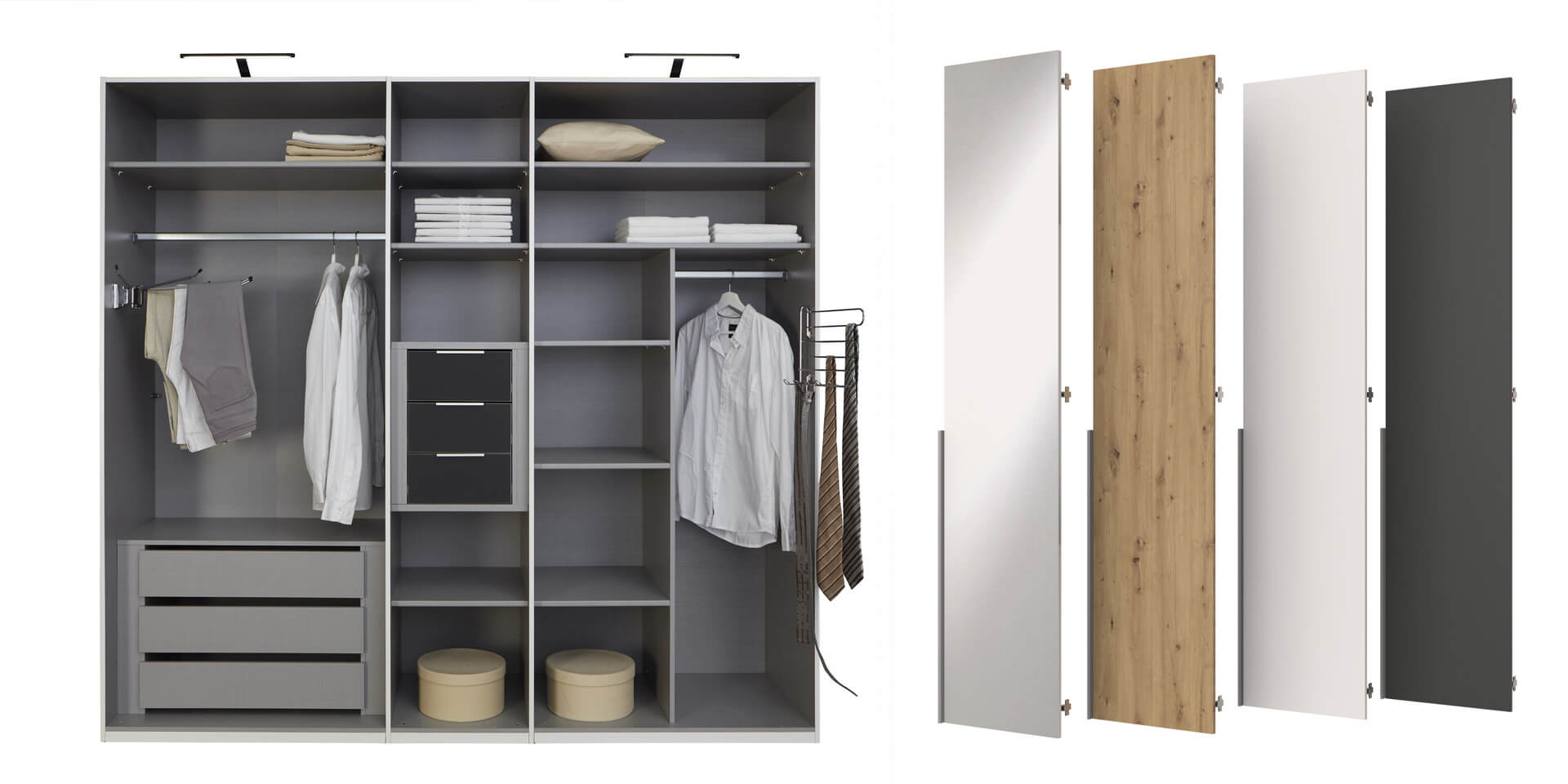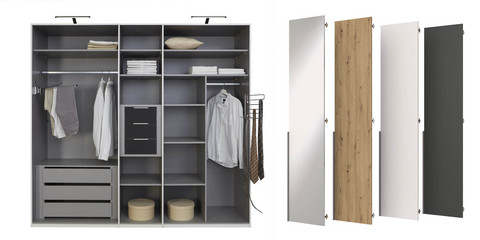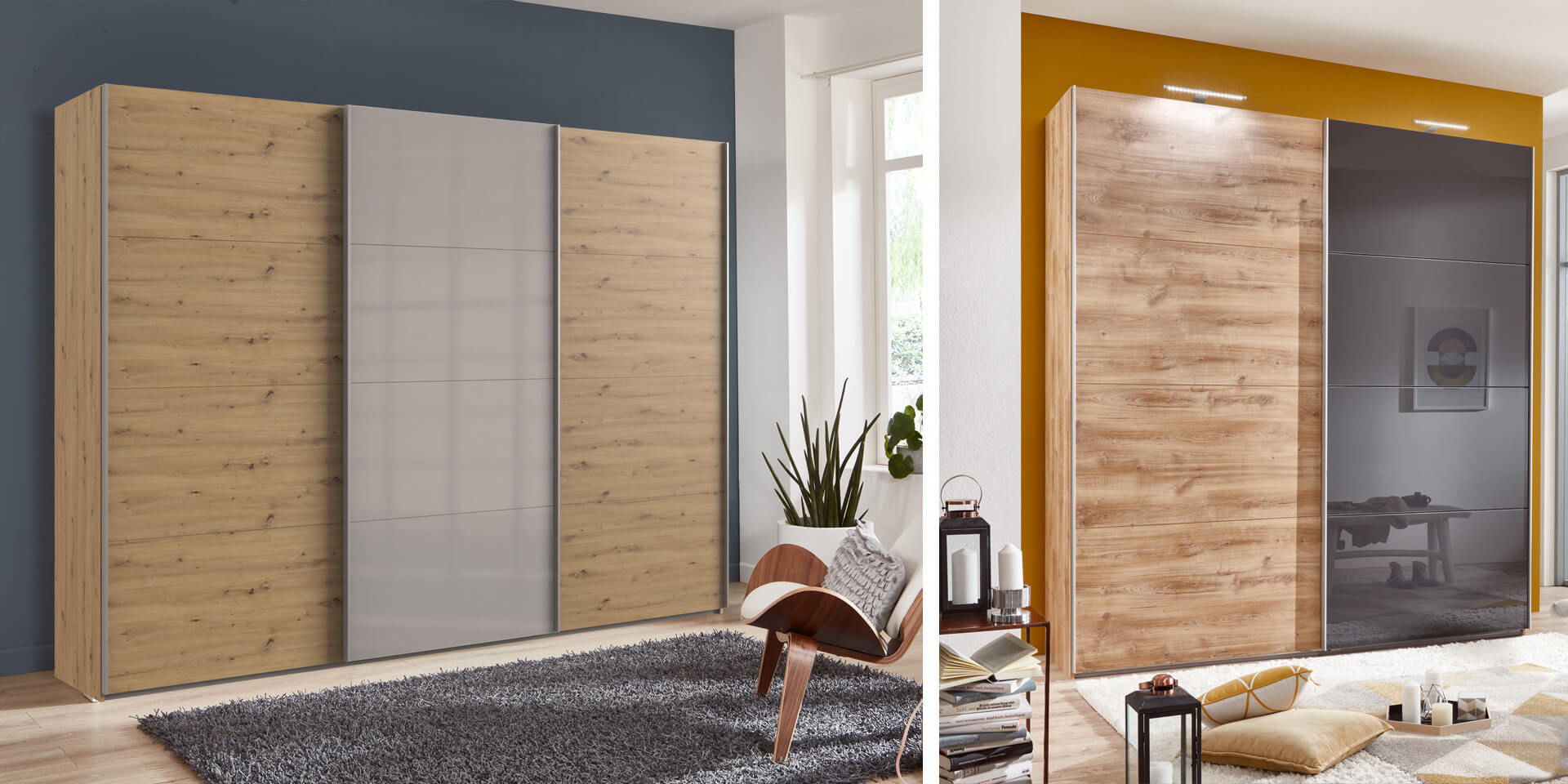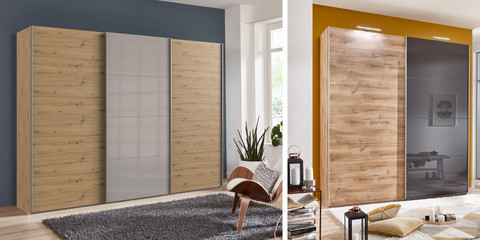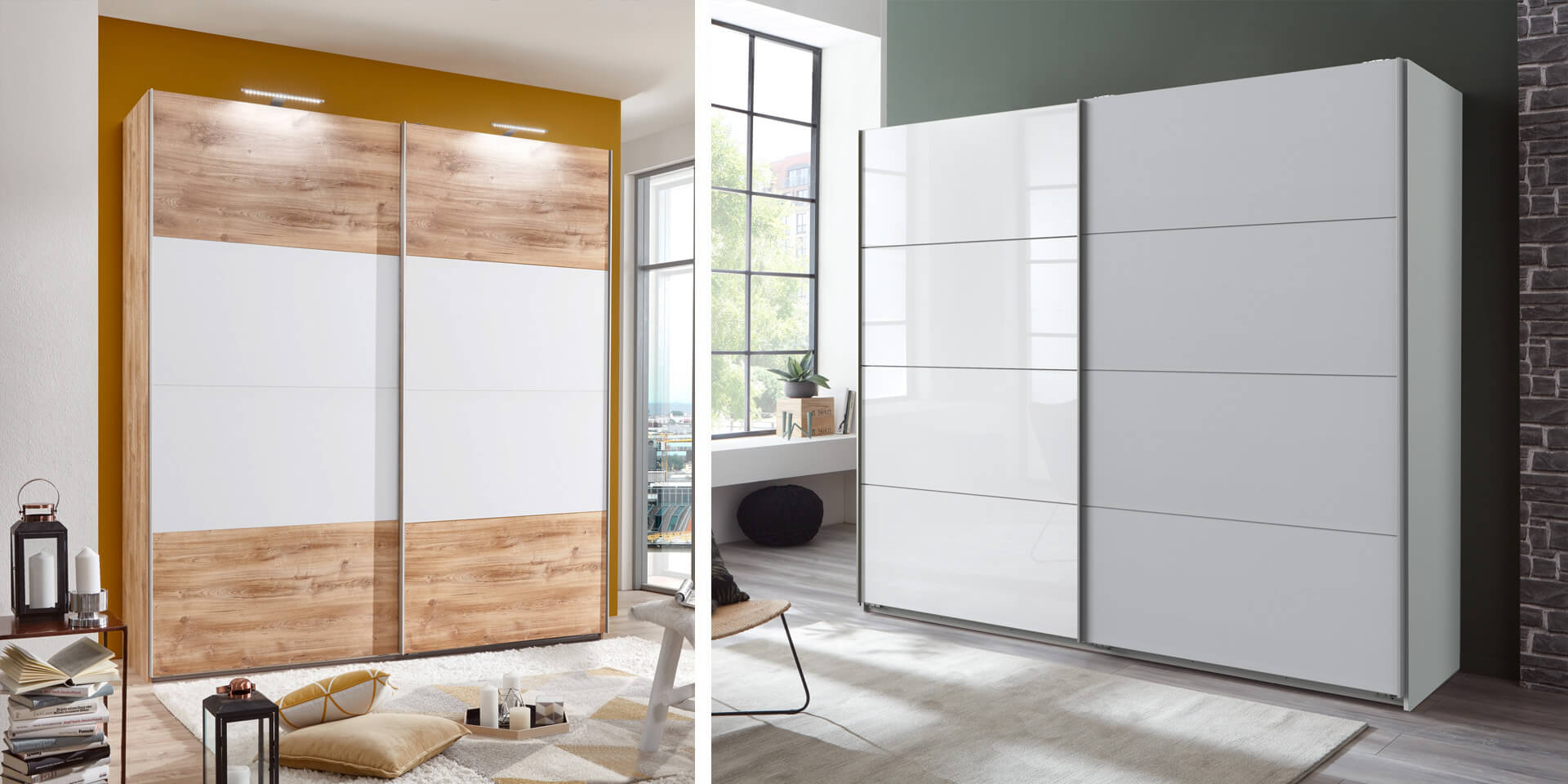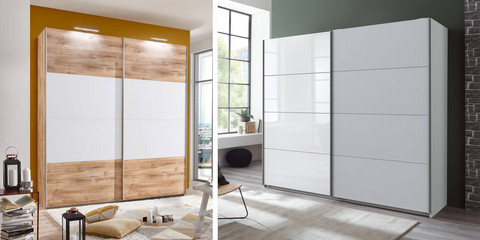 Perfect Match! It has never been so easy to fall in love with a vigilante as with the system programme EASY PLUS. A conventional wardrobe doesn't offer you enough storage space and you wish you had more choice in terms of accessories, ancillary furniture and extensions? Thanks to the enormous range of individual design options, the EASY PLUS range allows you to play Cupid thanks to freely assembling sliding-door cabinets. Complete your private dressing room with lovely accessories such as chests of drawers, mirrors, dressing tables and bedside cabinets to create a styling area with irresistible charm.
Revolving and sliding door wardrobes EASY PLUS
With the versatile EASY PLUS range, you can complete your perfectly coordinated furniture selection in terms of carcass, doors and accessories. Available in two different heights and five widths, you can of course determine the final size of your sliding door wardrobe yourself. Thanks to a total of six modern carcass colours such as white and graphite as well as stylish wood reproductions in oak, plank oak, mud oak or artisan oak, you simply select two doors of the same width as your base partner and match them to your desired front variant. You can combine them in any way you like, just position the four panels of your front doors according to your visual ideas and choose between high-quality coloured glass or floor-to-ceiling mirror fronts.
True dream partners: matching accessories for EASY PLUS
You can also put together the matching accessories for your favourite wardrobe from the EASY PLUS series according to your personal preferences in terms of function, comfort and the exterior and interior lighting of the body and doors: Variously dimensioned add-on elements such as floor-level mirror fronts, clever corner wardrobe solutions and variable shelves in combination with additional drawers, linen dividers, shelves and clothes racks open up almost unlimited design possibilities for your EASY PLUS wardrobe, which turns any room into a walk-in dressing room to fall in love with.
Diverse additional furniture for an attractive styling area
To make your dream of a beautiful dressing room come true, you can complement the other furnishings around your perfectly designed EASY PLUS wardrobe with various ancillary items such as bedside cabinets of various heights and spacious combi or drawer chests of drawers. Last but not least, you can add the finishing touch to your stylish dressing area by adding a bed bench or a bed chest, including additional storage space, and create an attractive styling area that catches all eyes with the help of the freely arrangeable dressing table of the EASY PLUS furniture series.
With the young furniture line "fresh to go", high quality meets exclusive design - and all this at an unbeatable price! We at WIMEX have been marketing the label fresh to go for over ten years and always ensure that everyday life, school, studies and work are compatible. Whether you want to chill out comfortably on your bed, live out your creativity in terms of individual interior design or study hard at your desk for your upcoming exam: with the versatile furniture ranges by fresh to go, you can combine leisure and work in an ideal way.